Chemical Splash Protection PVC Suit
• Made from soft and durable "TOYLAMNIA" grade PVC.
• The fastening of coat/jacket is with zipper covered with flap with push buttons.
• Keeps the chemical splash danger away.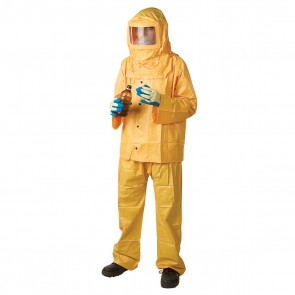 Chemguard Suit
• Three piece suit [Trouser, Coat & Hood with Acetate visor] having elasticized wrists in the coat and trouser bottoms.
• Made up of Polyethylene coated substrate fabric with excellent penetration resistance properties.
• Provided with a frontal zip and covered with Flap with Velcro.
• All the seams in this suit are SEAM SEALED
• Prevents any liquid, gas or vapour entry into the suit
• Protects the wearer from hazardous chemical.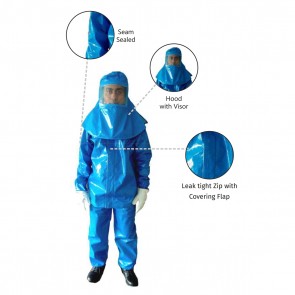 Chemical Splash Protection Apron
• High performance chemical barrier material manufactured by laminating Spun bounded Polyethylene to a barrier film coated by a protective polymer quality fabric for ruggedness and durability.
• The particle tight material is both penetration and permeation resistant to many liquids and gases for its properties
• Impermeable to light chemicals and solvents.
• Keeps the chemical splash danger away.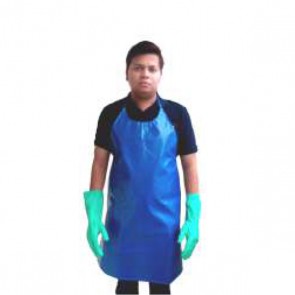 Frontair 2 Particulate Suit [Blue]
• Reusable non gas tight rear entry suit
• Provides the highest level of protection against particulate contamination.
• Manufactured in flame retardant, blue tinted, anti-static PVC.
• Removable 360° swiveling airline system with adjustable waist belt.
• Permanently attached PVC gloves.
• Anti-slip feet with ankle ties.
• Six exhalation valves fitted with covers.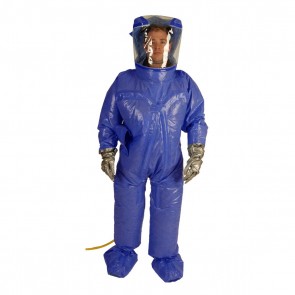 Cryo Suit
• Made of three layer construction.
• The outer layer is aluminized fiber glass fabric with a middle layer of insulating light weight gelly and inner comfort layer.
• The entire garment is stitched with special threads approved for cryogenic temperatures
• Tested for use for – 100°C.
• Coverall design with integrated face open hood.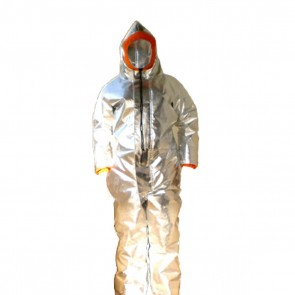 Search and Rescue Suit
• Made up Cotton with polymer membrane FR properties finishing ARC Rating.
• Fabric closely knitted which ensures maximum heat dissipation
• One- Piece garment covering the full body from Neck to ankle.
• Sewing threads, zipper tapes are made from IFR materials.
• Metal components are backed with IFR material to prevent the components from conducting heat to the wearer's skin.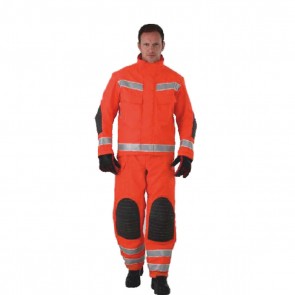 Laminated Life Gas Tight Suit
• Designed to protect the emergency responder against toxic, corrosive gases, liquids and solid chemicals.
• Fully encapsulating design to allow breathing apparatus to be worn inside the suit.
• Adjustable internal support belt and bat-wing sleeves for optimal wearer comfort.
• Flexible, multi-laminated, anti-mist visor giving clear undistorted vision.
• Exhalation valves ensure that the pressure change within the suit does not exceed 400 pascals in one minute.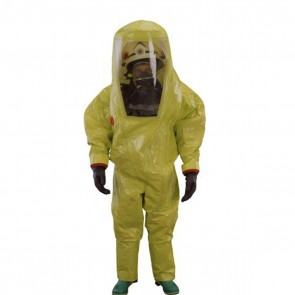 Hot Oil / Steam Splash Suit
• Made up of tested Fabrics which protect against heat
• Designed for the use of the wearer from High Heat, Fire wave or steam at high pressure surges.
• 5 layer garment made of CSM Material as outer layer giving water and chemical resistance as outer layer,
• The fabric withstanding pressure capacity is 50kg/cm2
• Steam strength is up to 350 degree temperature up to 400 degree.
• High tensile strength and protection against pressurized fluids.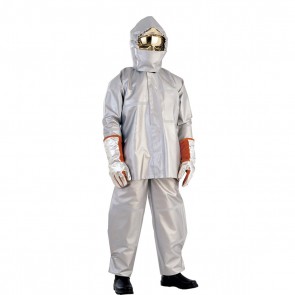 Aluminized Fire Suit
• Hood with visor, Jacket with expanded back for breathing apparatus fire proof closure elements are located on front of the Coverall & Firefighter's boots with aluminized covers (made with clothing system).
• 5 finger aluminized gloves (made with clothing layer system) Carrying bag is also provided.
• Outer layer is made of Aluminized satin glass fiber fabric+
• Coverall design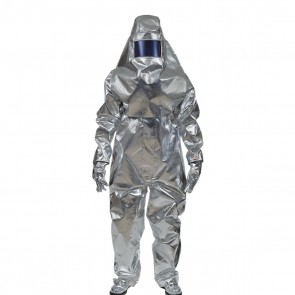 Premium Harness
• Two shoulder attachment with one chest buckle for adjustment.
• Adjustable Chest-Strap & thigh- Straps with waist Belt.
• Shoulder & thigh- straps differentiated by a dual color Scheme.
• Ideally Positioned Seat Strap for Extended Comfort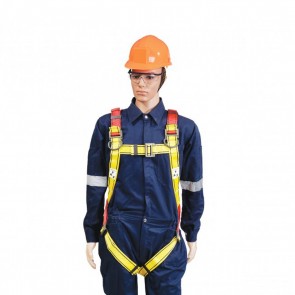 Rescue Harness
• Two lateral attachments for work positioning
• One central attachment for rescue
• One chest attachment for fall arrestor and rope grab.
• Adjustable Chest-strap, padded thigh- straps and shoulder straps, padded waist belt for rescue and work positioning.
• Shoulder and thigh-straps differentiated by a dual color scheme
• Ideally positioned seat-strap for extended comfort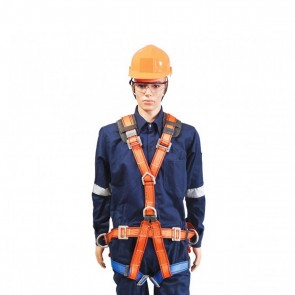 Miller Derrick / Oil Rig Harness
• Specially-designed harness suspension loops provide greater mobility as well as aid in work positioning
• Ideal for attaching to a ladder climbing system or for work positioning, suspension and rescue
• Side and back D-rings & Pad on Floating Belt
• Clip-on design safely organizes webbing after proper adjustment
• Unique rotary design provides greater comfort in bending/mobility
• Semi-flexible back shield minimizes impact from sharp/heavy snap hooks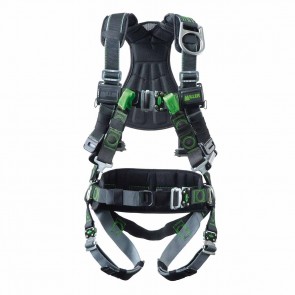 Miller Arc Rated Harness
• Patent-pending 10,000 lb. tensile strength webbing is engineered with permanent fire retardant (FR) properties.
• The webbing offers the durability and FR properties of Kevlar on the outer side
• The webbing assures arc protection and durability that eclipses any nylon webbing.
• Leather insulators under all metal hardware offer additional protection for the worker.
• Ideal for the security and protection of utility and maintenance workers.